Friends of York Walls are continuing to work towards the refurbishment and ultimate re-opening of Fishergate Postern Tower. One of the ways we are seeking to raise funds is by inviting the general public and local businesses to "Sponsor a Stone". This major fund raising activity was officially launched in January 2012 when The Lord Mayor of York was presented with a certificate of ownership of the first stone.
If you wish to help us to open the tower and to promote the walls then please look at the following photograph and the document links. Choose a stone and check that it is still available on the – Sponsored Stones grid below. Then either complete the Online Stone Reservation Form or print out and fill in the postal application form and return it to the address specified.
For your sponsorship you can choose a specific and identifiable external stone, or stones, on an outside face of Fishergate Postern Tower, York, UK. For your donation you will be issued with a certificate to record your stones label, a pin badge and a window sticker. Stone locations and their availability are identified on this web site. Stones are allocated according to availability and only issued once. Sponsors names, together with an optional messages, can be entered into a "Book of Sponsors" which can be viewed in the online Sponsors Book. on this website and will also eventually be on display within the tower itself.
This is a unique opportunity to contribute towards a project to restore one of York's ancient monuments to public use. By sponsoring a stone or stones you contribute towards the Fishergate Postern Tower restoration work, and our work to improve York's Walls. Your sponsorship can be for yourself, is ideal as a gift for someone, or for a significant event or person in your life. The scheme can be used to observe a special occasion such as a birthday, a christening, a wedding, as a memorial or simply to convey a message.
Sponsor a Stone – General Information Sheet
Sponsor a Stone – Fishergate Postern Tower the 'West Wall' Stone Numbers
Sponsor a Stone – Tower Location Map and General Information
Sponsor a Stone – Personal Application: Information
Sponsor a Stone – Business Application: Information
Sponsor a Stone – Certificate SAMPLE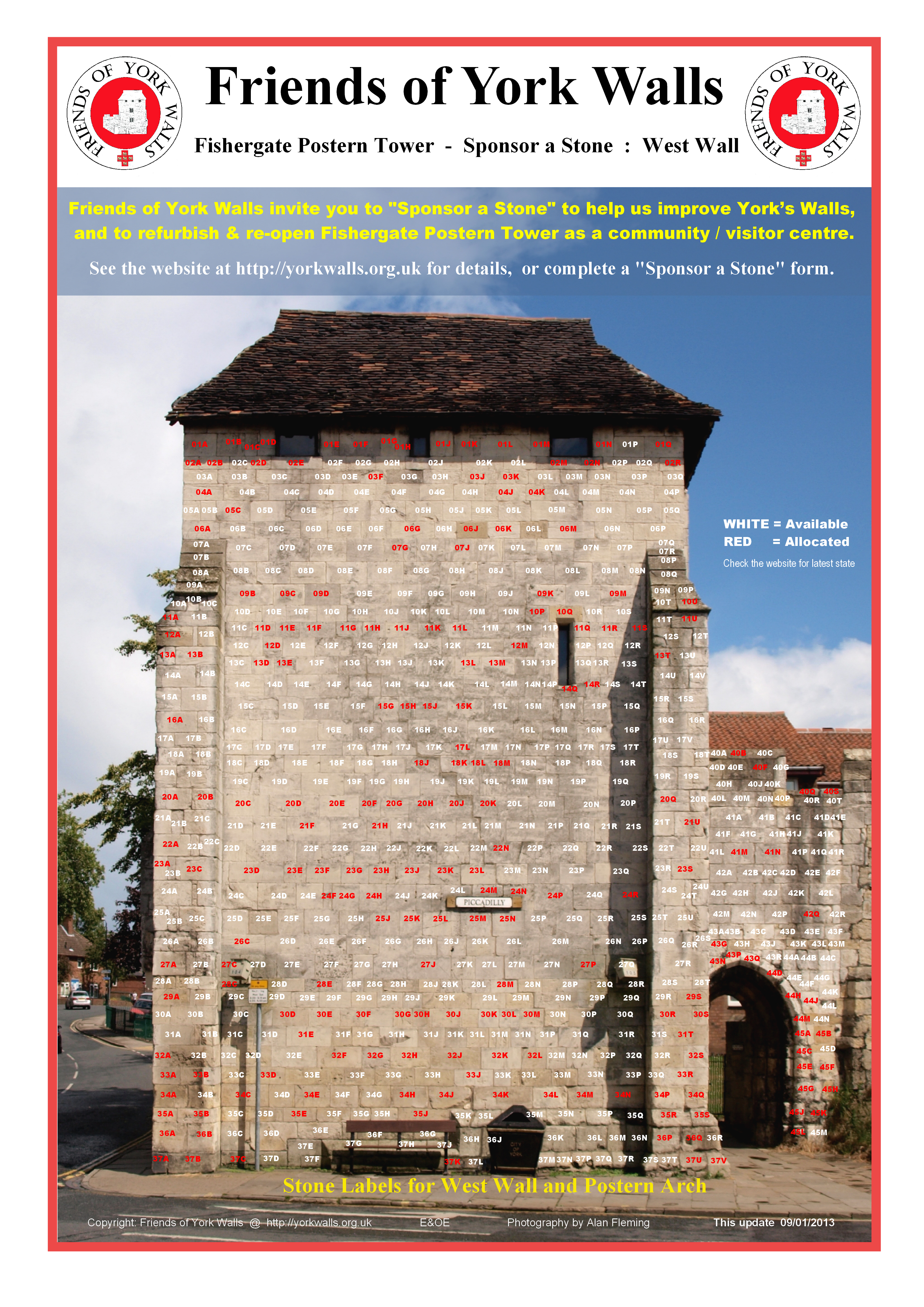 Click on the photo above to view in high resolution.
Sponsor a Stone – West Wall "Stone Availability Grid"
View the Online Sponsors Book here.
A minimum donation of £20 is requested, but more would be greatly appreciated.
To reserve a stone online, please use Online Stone Reservation Form.
If you are unable to complete all the required information you can complete the postal application form instead and return it to the address specified.

Sponsor a Stone – Paypal payments
Payment by Credit / Debit Card is made through the PayPal facility, but you do NOT need a PayPal account to make a card payment. An email will be sent automatically to you to confirm receipt of your payment.
Please use the button below to make payments for your reserved Tower Stones. Please note that you will be required to enter the email address used when you originally reserved the stone.